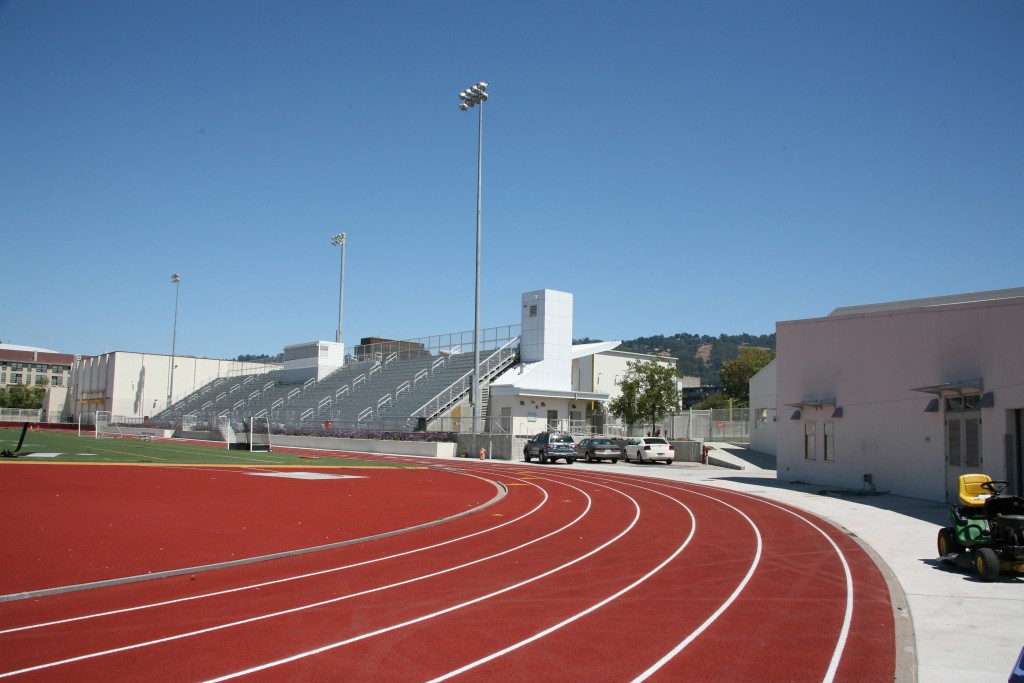 Throwback Tuesday – exactly four years and one week ago,
Berkeley High School Stadium Building
was featured in an article in the Berkeley Times, August 23, 2012.
View the newspaper clipping
Jacket Stadium now open for students, staff, and fans
By Nathan Phillips
Phase one of the Berkeley High School (BHS) South of Bancroft Project is nearly complete and the new Jacket Stadium is already open for use. In fact, in preparation for the new school year, several teams are already using the facility for practices. The new stadium, which dominates the landscape near the corner of Milvia Street and Channing Way, can accommodate up to 2,000 cheering fans in new bleachers that reach high over the field. But the inside of the facility is equally impressive.
While fans will sit on the west side of the building, the East side has entrances for a series of new rooms, including the office of new Athletic Director Allison Smith, a coaches room, and training room on the top level. Across both levels are team rooms, in which athletes will have their lockers and teams will have storage and a host of new technology to help them train and prepare. Jacket Stadium now boasts WiFi, projectors in the team rooms, a new sound system and new scoreboard.
Jacket Stadium is phase one of the South of Bancroft Project. The next phase involves completing demolition of the old gym and replacing it with a new, state of the arts sports facility and class rooms as well as replacing the bleachers on the west side of the field and building a new regulation softball field where the portable classrooms currently reside. In all, the project will cost just over $9.3 million with funds coming from bond measures A and AA in 2000 and measure I in 2010. In July, the State of California also granted the project unfunded approval status, which means, should funds become available, the state would provide up to $5.5 million towards the total cost.
Jacket Stadium will host its first event when the BHS football team takes the field on September 7. The community is also invited to an open house on September 15.